Cartherics CRC-P PhD Program
Cartherics Pty Ltd has recently been awarded a prestigious Cooperative Research Centres (CRC) Project Grant entitled "Allogeneic Stem Cell Cancer lmmunotherapies".
Cartherics and its CRC-P partners, which include Mesoblast Ltd, Cell Therapies Pty Ltd, Monash University and the Hudson Institute of Medical Research, will develop 'off-the-shelf' immunotherapy products for cancer using novel, specially selected, cell lines to create haplotype induced pluripotent stem cells (iPSCs) that can be infinitely expanded. These iPSCs will be gene edited and differentiated to become cytotoxic T cells with multiple targeting receptors for use in clinical trials, initially, for treatment of relapsed ovarian and gastric cancers.
The Cartherics team is closely aligned with leading cancer research groups, including The Peter Maccallum Cancer Centre and their partners at the new Victorian Comprehensive Cancer Centre and The Epworth Medical Centre, together with a strong research base at the Hudson Institute for Medical Research and Monash University and its affiliated clinical institutes of Monash Health.
As part of the CRC-P Program, Cartherics is offering high calibre, eligible, students PhD research programs of study that include world-class research training, as well as opportunities to develop diverse skills that will benefit their future career. The Cartherics PhD Program centres on medical research specifically combining stem cells and immunotherapy to cure cancer.
Research and training are based at the Monash Health Translation Precinct (MHTP) Translational Research Facility, a partnership of Monash University, the Hudson Institute of Medical Research and Monash Health. The Cartherics offices and laboratories are located on Level 7 of The Monash Health Translation Precinct Translational Research Facility. Cartherics PhD Students will be enrolled through Monash University into the prestigious Monash University Doctoral Program.
Further information about the Monash Graduate Education Program can be found at www.monash.edu/graduate-research.
Current Research Projects for 2020:
Projects include, but are not limited to:
Re-engineering the function of natural killer cell receptors via CRISPR/Cas9: a new approach for 'off-the-shelf' immunotherapy.
Supervisors: Professor Richard Boyd
Co-supervisor: Dr Roland Shu, Dr Vera Evtimov, Dr Nicholas Boyd
Elimination of cancer stem cells using chimeric antigen receptor T cells.
Supervisor: Professor Alan Trounson
Co-supervisor: Dr Vera Evtimov
More information on these projects is available on pages 33 through to page 37 of the TRC Student Project booklet for 2020.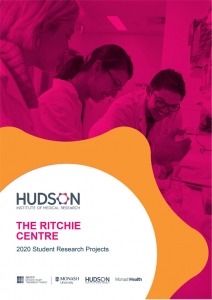 How to apply
Enquiries from high calibre, eligible candidates, including those already enrolled in a PhD Program, are welcome at any time. Prospective students should explore the research project links above. Contact the Project Supervisors to discuss your interest before applying. You and your supervisor will then need to complete an Expression of Interest form, if you are not already enrolled at Monash for a PhD.
Our Education Officer is available to advise and assist students with their application. International students may also choose to apply to the Institute for general consideration through Monash Connect at www.monash.edu/study/student-life/services-for-students/international-students . Scholarships PhD candidature can be applied for at any time of the year. However, there are strict University Scholarship application deadlines. Applications for domestic Scholarships close on 31st May and 31st October each year for mid-year and end of year applications, respectively. In some situations, Cartherics may agree to award interim funding for selected students, particularly those with a high likelihood of future scholarship success, until an external scholarship is obtained.
Domestic and international PhD students at Cartherics must have scholarship funding to support their PhD studies. All applications for admission and scholarships are made online once you have received an invitation to apply. Find out more on how to apply at www.monash.edu/graduate-research/future-students/apply.
We recognise that undertaking a PhD is a significant commitment. Therefore, all PhD students enrolled with Cartherics are also awarded a significant Cartherics top-up scholarship of up to $5,000 per annum for a maximum of 3.5 years to supplement their Monash Graduate Research Scholarship, as well as other incentives. This supplement is normally tax free.
A useful guide for new PhD students in the link below :
A life guide for new PhD students
For further information contact
Graham Jenkin – Cartherics Education Officer
Professor, Department of Obstetrics and Gynaecology, Monash University
Scientific Director, Monash Health Translation Precinct Cell Therapies and Regenerative Medicine Platform
Mobile: +61-419 534 101
or
Karen Loudon – Executive Assistant
karen.loudon@hudson.org.au
+61 (3) 8572 2500